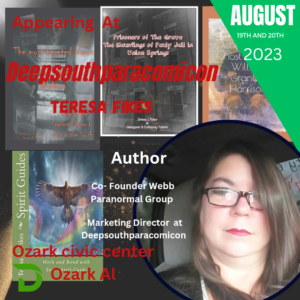 Teresa Fikes is the Co-founder of Webb Paranormal Group, working in the capacity of an investigator, marketing, and historical research. Webb Paranormal Group was founded as a means to uncover the many questions left unanswered when a person dies. Working alongside her husband and the team to investigate paranormal activity in an attempt to find these answers. Webb Paranormal Group works hard in our attempt to aid both the living and deceased in understanding the "Why" and perhaps give them some peace. 
With this in mind, Webb Paranormal Group put together a plan to bring other paranormal enthusiasts together. Bringing forth the idea of the Deep South Para-Comi-Con, of which Teresa is the current Director of Marketing. 
A Well Rounded Individual
Besides her interest in the paranormal, Teresa has completed several courses of study.  She has studied Media Communications, Web Design and Development. Her professional attributes include acting as administrator for Arden Marketing Enterprises, Sunnyside Lane Hobby Farm, and The Webb Radio Network. 
She has extensive experience editing, rewriting, and proofing articles for a website prior to adding content. Teresa is the published author of several books. One of her popular works includes Spirit Guides: Work and Bond with Your Spirit Guide and Prisoners from the Grave: The Hauntings of Pauly Jail in Union Springs.  Another interesting book by Teresa is an actual "road map" throughout the state of Alabama. Take a trip to several popular (and some not so popular) of the scariest places in the State of Alabama. The Most Haunted Places in the State of Alabama, USA: Some of the Scariest Places to visit in Alabama (An A-Z Series of Haunted Places in the United States)
Besides her many written achievements, Teresa is also an avid genealogist, historian, and of course, paranormal investigator! 
Come Meet Teresa Fikes in Person!
You can meet Teresa in person, at the DSPCC on August 19-20, 2023 at the Ozark Civic Center in Ozark, AL. Purchase your tickets in advance by visiting the Deep South Para-comi-con site. Discover for yourself why it is known as the "portal to your imagination"!